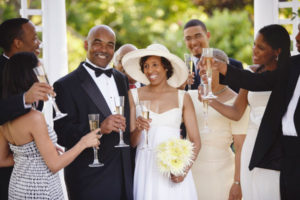 Getting married is an important milestone, and it's a good time to re-evaluate your financial plan to be sure that it meets the changes in your circumstances.
Key Issues
It may not be very romantic, but issues such as establishing joint bank accounts, revising wills, and changing beneficiaries on life insurance policies are important matters that need to be discussed between spouses. Home ownership, parenthood and funding education may also need to be discussed.
And there is no time like the present to evaluate strategies and products that will help you meet your long-term goals for a comfortable retirement together. Getting an early start on estate planning can also ease concerns about the future.
If you don't have life insurance, now would be a good time to think about ensuring the financial security of your new family.
Products to Consider
Term Life Insurance
Term insurance offers secure protection for a specific period and often can be converted into a permanent policy at a later date. A term policy can be used to protect a home mortgage and other significant expenses for 10, 20 or even 30 years.
Universal Life Insurance
If you are ready to commit to the security of permanent life insurance protection, universal life may be the right choice for you. Unlike term coverage, universal life can build tax-deferred1 cash value over time that may be used to fund important expenses later in life.